Wildlife from the Annexe
Birds, Bats and Badgers oh, and muntjack. Here are two comments from our visitors book:
'Wonderfully cozy cottage in beautiful surroundings. We feel as if we have spent a week in a top-rank nature reserve: 32 species of birds seen from The Annexe and another 15 in the surrounding area; badgers in Greendale Lane - culminating in yesterdays raid by two weasels on the rabbit warren opposite. Magical! We have never stayed in a nicer cottage.'
'This really is a special place - relaxing and peaceful in beautiful surroundings! Seeing the nuthatches and siskins has made my year. We had the privilege of watching sparrows fledge from the nesting box at the side of The Annexe.'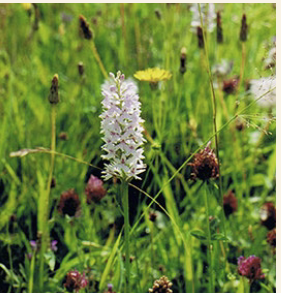 Orchid seen from the Annexe.